Promotional and sign adhesive posters at the right price. Easy to apply and remove, PosterBox's self adhesive vinyl delivers outstanding print quality with durability of up to 5 years outdoors.

Our Printer
We print using the latest model HP310 Latex printer. With HP Latex Inks, you can obtain outdoor durability and versatility with high-quality printing.
Outdoor Durability - Light-fade resistance
Light-fade resistance, sometimes referred to as print permanence, is a measure of how well a print resists fading with exposure to light and other environmental factors such as ozone. The colour of an ink comes from its dyes or pigments, and over time these particles will be broken down by UV rays in sunlight, resulting in colours that fade. Prints produced with inks that contain pigments, such as HP Latex Inks, tend to last longer than prints produced with inks that contain dyes, but nonetheless they will start to fade over time depending on the intensity of UV light exposure.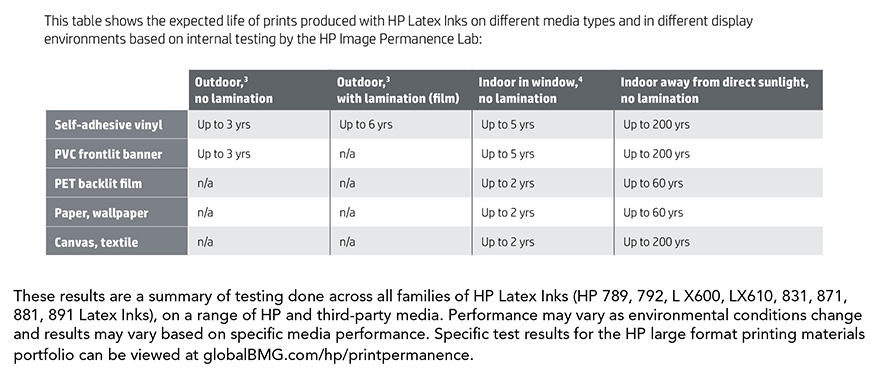 Scratch and abrasion resistance

Scratch resistance and abrasion resistance refer to the ability of a print to resist damage from different objects with which it comes into contact.
Water and chemical resistance
Water resistance and chemical resistance refer to the ability of a graphic to resist water, cleaning products, and other chemicals with which it may come into contact. For example, graphics in some indoor locations may be occasionally cleaned with water and indoor detergents.
To test performance in this area, HP performs wet rub testing with water, as well as three common cleaning and chemical products—Windex® window cleaner, ethanol, and isopropyl alcohol.
HP Latex Inks and scratch, abrasion, water, and chemical resistance
This table shows the scratch, abrasion, water, and chemical resistance of each of the three generations of HP Latex Inks when printed on self-adhesive vinyl: