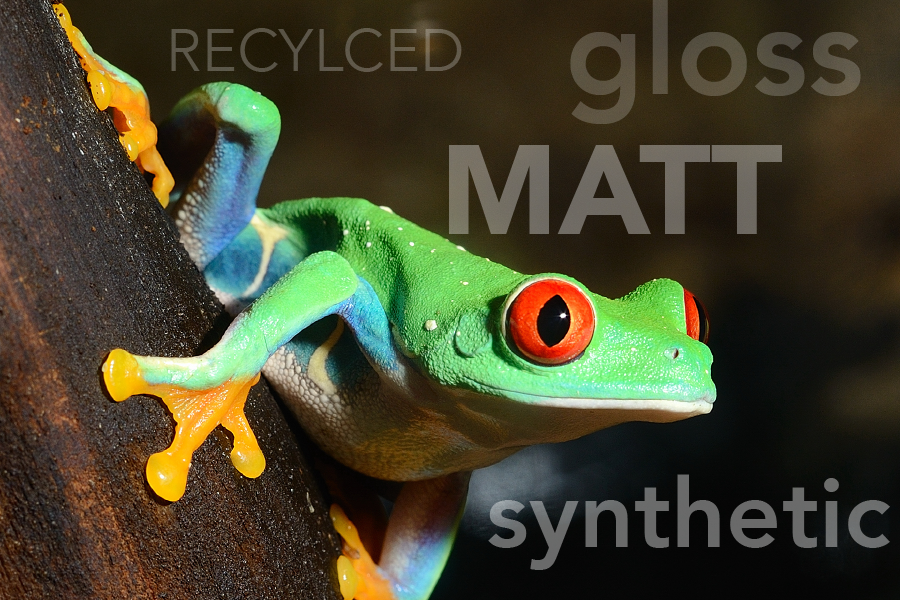 Tips for choosing the best media for your posters
We offer a wide choice of media to print your posters on, from high gloss photo paper through to bond and synthetic papers. Choosing the best poster media depends on your needs and budget. To help you choose we have provided a brief description of each below. You can also request a sample pack which contains a printed sample of each our media.
---
---
Matt Coated Paper - 100gsm
Our lightweight matt coated paper is ideal for high resolution graphics presentations. . An FSC® certified paper. Produces posters with high density and vivid colors. Water and erasing resistant, acid-free with a smooth surface.
Matt Coated Paper - 130gsm
This multi-coated, weatherproof paper with high wet-strength and a satin finish is suitable for printing with solvent, latex and UV-curing inks. Prints impress with high colour brilliance and good image definition. The material possesses quick ink dryingproperties and good flatness. This media qualifies for outdoor billboard applications and displays good resistance to scratches and very good folding endurance.
Advantages
Excellent colour brilliance
Water-repellent surface
Very good folding endurance
FSC® certified
---
Matt Coated Paper - 160gsm
A low cost media that delivers surprising quality with a matt finish! This media is ideal for short term use. Ideal for shopping center posters, sale posters, temporary signage. One of most popular choices.
---
Matt Coated Paper (recycled) - 200gsm
50% recycled fibre content. Quality matt coating provides excellent surface for fine colour reproduction with high whiteness & opacity with excellent bulk. Ideal for posters & point of sale applications. Print up to a massive 1.3mtrs wide! FSC Mix Certified. PLEASE NOTE there can be small random quality "defects" with this media. Eg a black spot, slight cockling of the media. In terms of image quality this media is great.
---
Satin Poster Paper Plus 130gsm
Is a universal, weatherproof poster paper. Features outdoor durability that also caters for indoor applications.
Features and benefits:
Weight: 130gsm
Colour: Bright White
Surface: Satin with a water repellent multi-layer coating
Delivers high colour brilliance and excellent image definition
Can be folded without cracking
Good resistance to scratches with a high wet strength and a water repellent surface
Suitable for outdoor and indoor usages
FSC certified
---
Yupo Synthetic Paper 200 micron
YUPO is the 100% recyclable, waterproof, tree-free Synthetic Paper with attributes and properties that make it the perfect solution for your posters.
YUPO Attributes:
Super-smooth
Prints consistently and effortlessly
Holds ink with razor-sharp precision
Durable
Wipes clean
Waterproof
Will not tear
Why choose YUPO Synthetic Paper:
It's WATERPROOF, and stands up to the rigors of the elements and demanding environments.
Ultra-smooth and bright white, it's a paper alternative that stands out.
100% tree-free YUPO is the premium synthetic that's 100% recyclable.
What are the environmental characteristics of YUPO?
As an especially durable synthetic, YUPO normally enters the waste stream at a far slower rate than conventional papers. A polypropylene (PP) plastic film, it is fully recyclable and will remain inert in any approved landfill. Safely incinerated in a modern incinerator with an atmosphere of excess oxygen it will yield only water, carbon dioxide, and ash.
---
Gloss Photo Paper - 200gsm
Ideal glossy poster printing media for indoor signs, posters, and point of sale graphics. Features include: water resistant, brilliant white point, excellent colour with a high gloss finish.
---
Satin Photo Paper - 200gsm
For low cost, indoor graphics such as vivid posters, shopping centre displays, photo-realistic image reproductions, and professional trade show graphics. A perfect solution for those who require the colour vibrancy of a gloss paper without reflection. This media is perfect for poster printing when high quality is required.
---
Satin PhotoPlus Paper - 260gsm
Heavyweight Photo Paper. Ideal for the highest quality posters, photos & point of sale graphics. Water resistant, quick drying, no lamination required for indoor use, excellent image definition and colour fidelity.